Colder Temperatures and Precipitation predicted through June 2012
The National Weather Service Climate Prediction Service is forecasting colder temperatures and less precipitation throughout Oregon through June 2012. Their prediction is an average for the state as a whole and is not a forecast for specific counties. Continue to follow our blog, the NWS website and your local weather forecaster for up to date information.
National Weather Service Presents Storm Ready Certification to Columbia County
Columbia County was presented with a Storm Ready Certification from the National Weather Service at the Board of County Commissioners meeting on December 14, 2011. Columbia County is the eighth county in Oregon to receive this designation and the first in the Portland metropolitan area.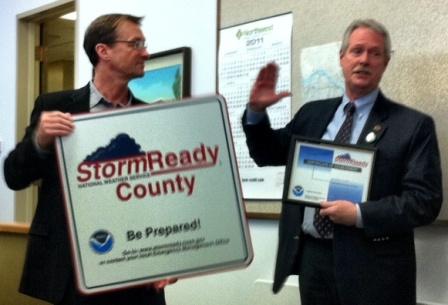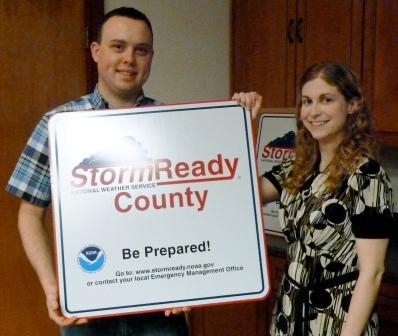 Storm Ready communities are better prepared to save lives from the onslaught of severe weather through advanced planning, education and awareness. No community is storm proof, but StormReady can help communities save lives. http://www.stormready.noaa.gov/
How You Can Be Storm Ready: In preparation for future storms, please check your emergency kit supplies are current and make sure you have provisions for a possible power outage. See http://www.oregonredcross.org for details.
Winter Driving Tips: Here are some useful trips for winter driving.
National Flood Insurance Program May Pay for Flood Prevention Supplies: A little-known clause in NFIP flood insurance policies may reimburse up to $1,000 for loss avoidance measures taken as a result of impending flooding or flooding conditions. Individuals that carry flood insurance may take advantage of this benefit even if their home or business did not actually flood. There are some specific terms and conditions that must apply first and only certain items qualify for reimbursement. Some of these items are sandbags, sand, pumps, plastic sheeting, lumber and labor. Please check with your insurance provider to see if your flood prevention expenses are eligible for reimbursement.
Emergency Management Planning Documents
Columbia County Multi-Jurisdiction Hazards Mitigation Plan (612 pages PDF 24 MB) - currently under review by community stakeholders; send your comments to emergency management by September 30, 2012. Thanks!
Columbia County Emergency Operations Plan (798 pages PDF 7 MB) - adopted May 2010.
Revised Community Wildfire Protection Plan (152 pages PDF 7 MB) - revised June 2012.
Do you Want to Participate in Emergency Management?
The following committees have openings for citizen participation (March 2012):
HSEMC - Homeland Security Emergency Management Commission - Advising Board of County Commissioners and Director of County's Emergency Management department on homeland security and emergency management issues. Mid County Cities alternate representative (Vernonia - Mist area) and Industry alternate representative member vacancies. Commission meets monthly.
ASA - Ambulance Service Advisory Committee - overseeing ambulance service providers performance criteria. Citizen member vacancy. Committee meets quarterly.
Contact Columbia County Emergency Management Department to learn more.
Stay informed with Emergency Management
Columbia County Emergency Management keeps citizens and responders informed using Social Media. See more at our Blog: http://columbiacountyem.blogspot.com or Facebook: http://www.facebook.com/ColCoEM or Twitter: http://twitter.com/columbiacoem.
Also consider Columbia 9-1-1 Communications District's Citizen Registry for its Columbia Alert Network (CAN) program. Receive text messages to your email address or cell phone. See more at http://ww2.citywatchonline.com/Public/Signup.aspx?SUID=fat2WMgptRBn1uknCPcs%20Q==