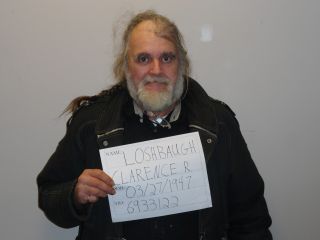 NAME: Clarence Loshbaugh
HEIGHT: 5' 11"
WEIGHT: 230 lbs
HAIR: Brown
EYES: Hazel
SID#: 6933122
DOB: 03.27.1947
RESIDENCE:
74130 Columbia River Highway, Rainier, OR 97048
LEGAL STATUS/ BEGIN DATE:
Post-Prison started on 10/19/2014. Expiration date 10/18/15.
CRIME:
Poss Meth
TARGET VICTIMS:
Minor girls
CONDITIONS OF SUPERVISION:
No unsupervised contact with minors without prior approval. Submit to polygraph examinations. No sexually explicit material. Not to consume intoxicating beverages. Not to associate with known drug users.
FOR MORE INFORMATION CONTACT:
COLUMBIA COUNTY COMMUNITY JUSTICE/ADULT DIVISION
901 Port Avenue
St. Helens, OR 97051
(503) 366-4665
This information is provided to promote community safety. Any harassment of the offender will not be tolerated and may be prosecuted to the full extent of the law.